Water Damage Cleanup & Mold Removal in Howell
Maher Water Damage Cleanup & Mold Removal is a local restoration company that specializes in water damage cleanup, mold removal, and improved indoor air quality for customers in Howell and throughout the Detroit metropolitan area. When your home or office has sustained water damage, every minute counts. That is why our water restoration experts stand ready on a 24/7/365 basis to assist in your hour of need with water damage cleanup, mold removal, and indoor air quality services designed to return your property to its original condition ASAP.
Restoration Services We Offer in Howell, MI
At Maher Water Damage Cleanup & Mold Removal, we stand behind the WOW Guarantee we make for all customers. Some of the most popular services we offer to customers in Howell include:
Water-related damage from a natural disaster or indoor flood is difficult to contain. Without proper cleanup from Maher's certified technicians, your home or business can suffer mold or structural damage.
Mold is everywhere, but the situation becomes critical when spore counts are elevated indoors. At the first sign of mold at your home or office in Greater Detroit, it is important to call the proven professionals from Maher.
In unpredictable situations, you need reliable experts to help clean up the mess that may be left behind. Let our team at Maher help you with all of your environmental service needs and improve your indoor air quality.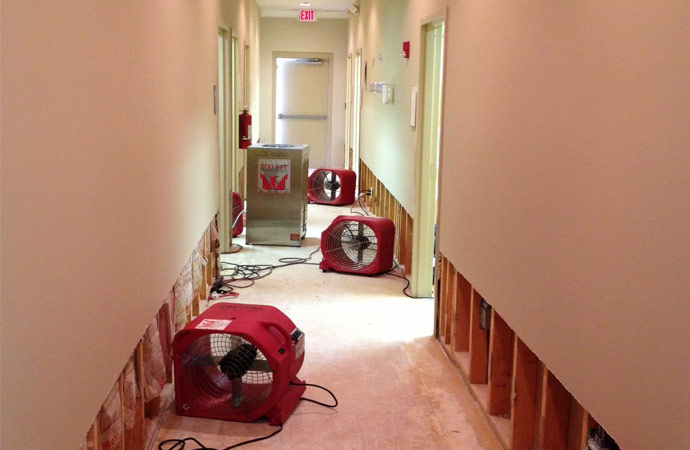 Certified Water & Mold Technicians
We serve our customers in Howell and throughout the Greater Detroit area from our headquarters in Walled Lake, MI. We are centrally located to serve customers throughout Oakland County, Wayne County, and Southeast Michigan. Our company is led by active, hands-on ownership that's backed by a highly qualified management team and certified restoration technicians.
Whether clean or dirty, water will quickly destroy your floors, walls, ceilings, and textiles. Unless it is stopped immediately, water will quickly seep behind walls, through floors, and into areas of your home or office that you are not able to see or reach. Fortunately, Maher technicians will respond to your water cleanup issue in 45 minutes or less at your property in Howell. We will remove the water, then dry the floors, walls, ceiling, and textiles in an effort to prevent mold growth. If mold surfaces, we can remove it ASAP.
As long-standing members in the Howell community, our mission goes beyond water and mold removal. We want to give you peace of mind in knowing that when a water-related issue surfaces, we will be there to solve it on a 24/7/365 basis. Experience the "WOW" factor that we provide with each water damage cleanup job for our legions of satisfied customers in Howell and throughout Greater Detroit.
Reasons to Choose Maher Water Damage Cleanup & Mold Removal in Howell
Licensed & Insured to work in Michigan
In Business since 2004
Background-check & Drug-Tested Employees
WOW Guarantee
RIA & IICRC-Certified Technicians
Trust Maher to Cleanup Your Water Damage Issues in Howell
For the best water damage cleanup and mold removal services in Howell and throughout the Greater Detroit Metropolitan Area, choose the proven professionals from Maher Water Damage Cleanup & Mold Removal. For almost two decades, our certified technicians have been creating satisfied customers throughout Southeast Michigan because we improve the air quality in their homes and businesses. When you need our help at your property in Howell, give us a call at 248-368-0807 for more information or click here to make an appointment!
Customer Reviews from Howell
Angie M from Howell, MI
Nov 13th, 2020
MAHER RESTORATION helped me during a home Emergency in October, 2020 when I came home to find my toilet exploding water during the Covid 19 Pandemic.
Two Maher technicians (Ray and Mike) arrived immediately. After they calmed me, they explained step by step what they they were going to do throughout my house. Ray and Mike always wore protective gear
and always called an hour before they arrived. I've never had to call a restoration company in 30 years of being a homeowner so I was scared at first, but I immediately felt comfortable and trusted them during this stressful home emergency...especially during an already stressful time of Covid 19 Pandemic.
Ray and Mike showed up everyday in professional, well stocked Maher trucks and wore "Team Maher" clothing every day making it easy for me to identify the professional crew working in my home. Ray and Mike did an excellent job prepping my house before demolishing the water and mold damaged areas. Upon their arrival on Day one, they first put up containment areas and floor coverings throughout my house to protect my family, my dog, and my flooring from dust and mold.
Ray and Mike came out to my house every day and always called an hour ahead of time. Karen from Maher Headquarters called me on a regular basis from day one to check in on me and my family. Karen is great! She always found a way to make me laugh during a highly stressful time in my home. Karen was able to handle all the details with my insurance company and kept me updated on a regular basis.
The owner of Maher Restoration also came out to my house to ensure that I was 100% satisfied. I really feel that this company will do whatever it takes to make sure that their operations run smoothly during an unexpected chaotic emergency in my home to protect me, especially during a pandemic.
Ray and Mike finished the water and mold mitigation repairs ahead of schedule and really put this hindering nightmare to rest.
Thank you to Ray, Mike, Karen, Jim snd the rest of the staff at Maher Restoration!
You all showed compassion and patience. You all made me feel so special and valued as a client by making me feel like part of the " Maher Team"
Thank you! Thank you! Thank you!
Angie and Daisy