Appliance Leak Cleanup Services in Metro Detroit
Appliances that hold or filter water often develop a slow leak or drip, leading to appliance flooding and water damage. This can also cause hidden mold damage unless regular maintenance is performed. Maher Water Damage Cleanup & Mold Removal in Metro Detroit provides professional clean-up services for leaky appliances.
Our licensed technicians seek to minimize water damage to your property with our superior appliance leak cleanup services. We also handle sump pump failure, ice damming, and burst pipes. Call us now at 248-368-0807 and we will dispatch our emergency water cleanup crew to help remove water from your flooding home. We offer appliance leak clean-up and water extraction, structural drying, and water damage restoration services for the following appliances:
Water Heater Burst
Washing Machine Overflow
A/C Unit Drain Overflow
Refrigerator & Ice Maker Overflow
Dishwasher Overflow
Causes of an Appliance Leak at Your Home or Office
When an appliance isn't functioning properly at your home or office, it can lead to major water damage if not addressed quickly. Below are some of the most common ways an appliance can leak: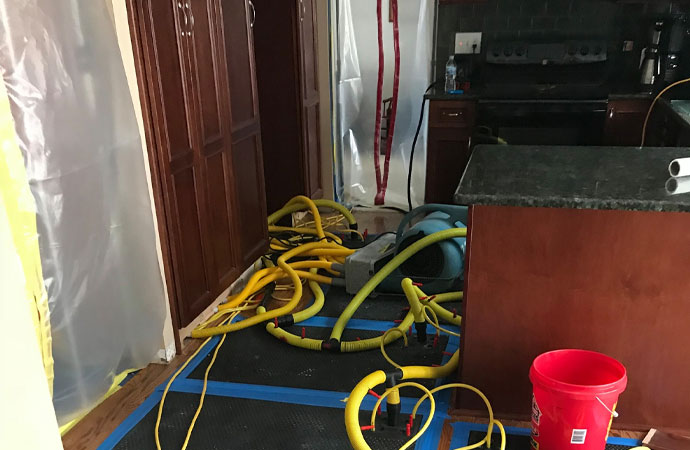 Dishwasher: When a dishwasher leaks, it usually is caused by a clogged or damaged drain line or supply line. Drain line leaks often contain bacteria. Supply lines can cause a major indoor flood because of heavy water pressure.

Water Heater: Water heaters often leak because of damaged or cracked pipes, a leaking tank, or broken fittings and seals. Malfunctioning water heaters also have the potential to burst, releasing gallons of water into your home in the blink of an eye.

Washing Machine: Washing machine hoses are always pressurized and a broken line is like turning on the tap. When a hose bursts, it can cause major damage in no time. Slower leaks from worn hoses and loose fittings can also cause water damage and mold growth on the walls behind the washing machine.

Heaters & Air Conditioners: Heating and cooling systems are prime candidates for leaks. Water leaks related to these systems are usually slow and hidden behind the walls & in the ceiling, meaning they can be difficult to find before mold starts to grow and causes even more damage.

Refrigerator: Refrigerators with a built-in icemaker have a supply line for water. This supply line can burst or crack and cause a significant amount of water damage. Some refrigerators also fall victim to slow water leaks from the base, which can go unnoticed for a long period of time and lead to mold issues.
Why Choose Maher Water Damage Cleanup & Mold Removal?
When it comes to water damage clean-up, every minute counts. Maher Water Damage Clean Up & Mold Removal is centrally located and services neighborhoods throughout Oakland County. Maher responds quickly to your water disaster, with emergency crews typically on-side in 45 minutes or less to begin drying out the floors, walls, ceiling, and textiles.
As long-standing members of the community, our mission goes beyond water and mold removal. We want to give you peace of mind in knowing that when water, mold, or an indoor air quality issue strikes, we'll be there for you 24/7/365 in Oakland, Detroit, Auburn Hills, Walled Lake, and other cities throughout our service area. Give us a call at 248-368-0807 for further details or click here to make a reservation.