Sump Pump Cleanup & Repair in Metro Detroit
Sump pumps are installed in the basement or crawl space as a preventative measure to avoid indoor flooding that causes water damage. Installing a sump pump is an easy & cost-effective way to control unwanted moisture in your home. Regular maintenance and repair of your basement sump pump is a crucial plumbing activity that will help minimize water accumulation.
Maher Water Damage Cleanup & Mold Removal provides the most reliable cleanup & repair services for sump pump failure in Metro Detroit. Our licensed technicians also handle appliance leak cleanups, ice damming and burst pipes. Call us now at 248-368-0807 and we will dispatch our emergency water cleanup crew to help remove excess water from your home ASAP.
Reasons Behind a Sump Pump Failure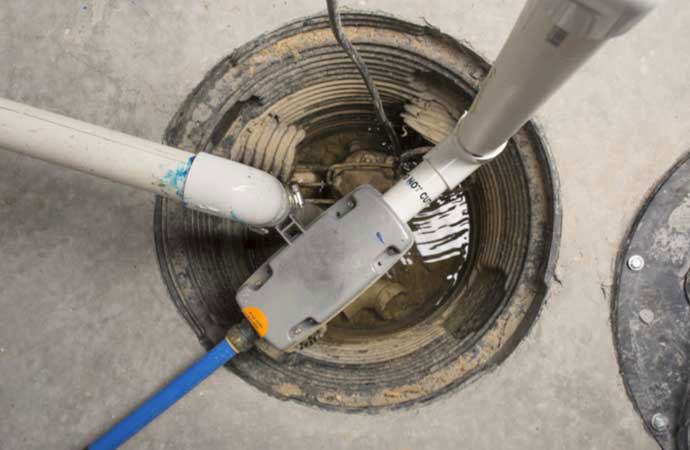 1. Overwhelmed pump: If your sump pump isn't of the right size, it might not be able to handle high volumes of water, which can leave you with a flooded basement. Sometimes a single pump isn't enough.

2. Pump burn-out: A sump pump can burn out because of a faulty float switch or an overworked, underpowered pump. Cheap pumps made with inexpensive materials and components are prone to sump pump failure, especially when they're needed most during extremely wet weather.

3. Power loss/outage: There are several reasons why a pump might lose power. It could be a tripped circuit breaker, unplugged pump, or power outage. No matter what the reason, a normal sump pump doesn't function unless there's power.

4. Clogged intake: When the intake becomes clogged, this prevents the pump from extracting water from the sump pit or sump liner.

5. Frozen/clogged discharge line: The discharge pipe is what carries water from your sump pump outside the home. The pipe can become clogged with dirt, rocks, roots, and other debris. In the wintertime, any water in the discharge line can freeze and clog the system.
Why Choose Maher Water Damage Cleanup & Mold Removal?
When it comes to water damage clean-up, every minute counts. Maher Water Damage Clean Up & Mold Removal services neighborhoods throughout Oakland County and all of the Metro Detroit area. In 45 minutes or less, our certified technicians will be removing water, drying floors, and preventing or reducing mold growth at your property. As long-standing members of the community, our mission goes beyond water and mold removal. We want to give you peace of mind in knowing that when water, mold, or an indoor air quality issue strikes, we'll be there for you 24/7/365 in Oakland, Detroit, Auburn Hills, Walled Lake, and other cities throughout our service area. Give us a call at 248-368-0807 for further details or click here to make a reservation.