Floor Water Damage Restoration in Greater Detroit
What if you wake up one day and find your floors or your entire house covered in water? This would be the worst nightmare for every property owner. A floor can be the first impression of your interior design. But when a water disaster occurs, the first thing to be affected is your floor. There are countless causes of water damage including natural calamities, leaking pipes, clogged gutters, foundation cracks, or defective appliances.
In such a hazardous situation, Maher Water Damage Cleanup & Mold Removal is your superior solution. With years of experience and expertise in this field, our IICRC-certified technicians are ready to offer you 100% customer satisfaction service.
So, folks near Detroit, Oakland, Auburn Hills, Wayne other cities throughout our Greater Detroit service area, if you face any critical issues like water damage restoration, Our experienced technicians are ready with modern equipment to provide you 24/7 top-class service at an affordable price. Call us at 248-368-0807 to book our service today.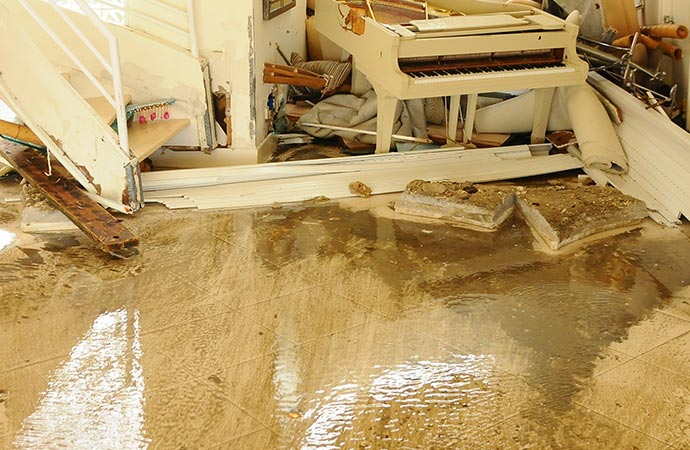 What Are Common Symptoms Of Floor Water Damage
The floor is yet a simple but crucial part of the construction. But it can get damaged due to some common reasons. If you find these symptoms of floor water damage on your property, Maher is the company that will help you out. Following are some issues you should keep an eye out for:
Mold: If you notice black, gray, green, and other discolored patches on your home, it may be a fungal growth called mold. It may cause skin irritation, shortness of breath, headache, and watery and red eyes.
Structural Damage: Bubbling, stain, paint flaking, cracking, musty odor, and discoloration can all be caused due to moisture damage to your house.
Floor Damping: Damping, bouncy, and spongy floors are clear signs of overexposure to water.
Find Maher to Restore Your Water-Damaged Property
You will find many companies in your area, but Maher will be your most satisfactory service provider in case you need floor water damage restoration service. You can rely on us undoubtedly because:
Certified Technicians
24/7 Emergency service
Licensed & Insured
Background Tested
Affordable Prices
"WOW" Guarantee
Advanced Equipment
We are a reliable restoration company and have all the latest technologies so that you can get the best solution for your water damage restoration. For 100% job satisfaction, you can put your trust in Maher. For more information, call 248-368-0807 or contact us online to make a reservation.