A/C Unit Drain Overflow Cleanup in Metro Detroit
The condensate drain is a vital component of your AC. This drain collects condensation from the evaporator coil of your air conditioner. The AC unit drain can overflow if the line isn't thoroughly cleaned. Overflowing drain lines may flood numerous areas of your property, causing mold to grow. Mold damages the interior of a place. But the most devastating effect mold has is on one's health.
If the drain on your air conditioner overflows, causing water damage to your home, Maher is the company to contact. We'll thoroughly clean and repair your property. For years, we've been rebuilding houses from water damage in Waterford, Troy, Sterling Heights, Warren, and other cities throughout our Detroit service area. We are a local repair firm that responds to water damage crises 24 hours a day, seven days a week. So when you need us to call us at 248-368-0807 or click here to make an appointment ASAP!
Common Causes of A/C Unit Drain Overflow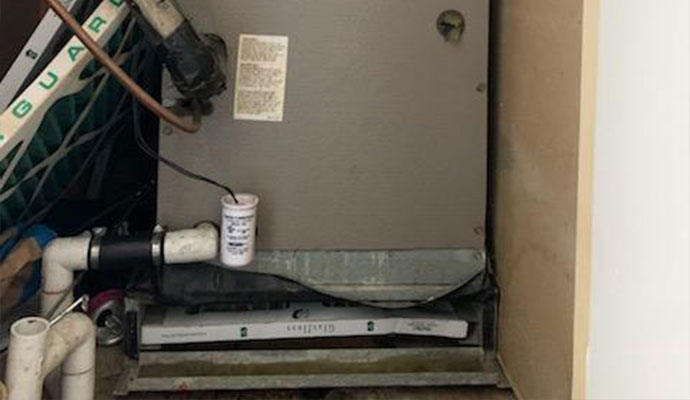 Blocked Drainage Line- If water leaks from your air conditioner, the most likely cause is a clogged condensate drain line. Water might back up into your house due to a blocked drainpipe.
Mold, Algae- The most common cause of clogging in an air conditioner's water drain pan is a clogged drainpipe. In the refrigerant coils and tubes, mold and other bacteria may grow, and after a while, algae and mildew can block the ac drain line, causing water to gather and spill into the drain pan.
System Deterioration- Water can back up in your HVAC system due to clogged drains, which lead to water damage.
Let Us Cleanup Your A/C Unit Drain Overflow in Dearborn & Pontiac
If you see any signs of water leaking from your air conditioner, call the specialists at Maher for a thorough cleanup. In addition to cleaning up, we will repair any damage to your property caused by water leaking. Our recovery experts will analyze your damage as soon as possible, and necessary services will be supplied promptly to keep your stuff safe and secure. If you have any questions or would like to arrange a cleanup service, please call us at 248-368-0807. Our services also include appliance leak cleanup, refrigerator leak, water heater leak cleanup, and more. Click here for a quote and to know more about us!