Burst Pipe Repair in Detroit, Oakland & Walled Lake
The proven professionals at Maher Water Damage Cleanup & Mold Removal provide the best and most cost-effective burst pipe repair services for residential and commercial customers throughout the Metro Detroit area. When you are having issues with water damage and property loss, immediate attention to the situation is essential to minimize the damage. In case of flooding from an emergency pipe burst, leaking pipes, or frozen pipes, contact us ASAP.
Our licensed technicians will perform an estimate for pipe repair and water cleanup services. We also handle appliance leak cleanups, sump pump failure, and ice damming. When the work is done, we will bill your insurance company directly and assist with filing your insurance claim. Call us now at 248-368-0807 and we will dispatch our emergency crew to remove water from your flooded home. To reach us online, click here to schedule an appointment ASAP.
Pipe Repair Services by Maher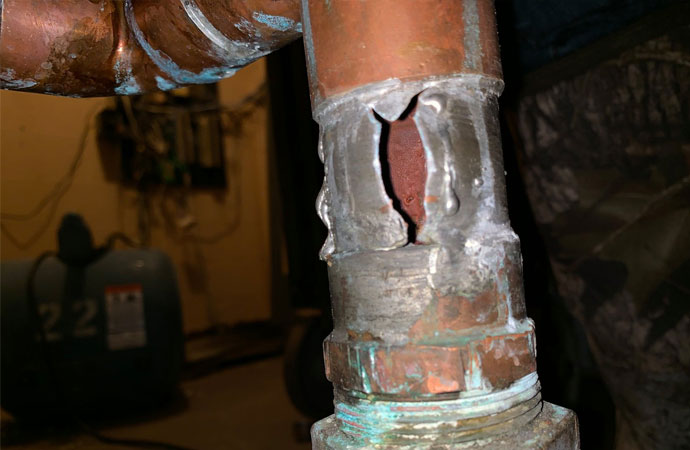 Dropping temperatures can cause extensive damage when water pipes freeze and break. Even a small crack in your water pipe can flood your home or office. In just one day, 250 gallons of water can be discharged from a 1/8-inch pipe crack. At Maher, our burst pipe repair services include addressing:
Flooded Basements
Sewer Backups
Appliance Failures
Burst Pipes
Sump Pump Failures
Roof Leaks
Shower Leaks
Ice Damming
Supply Line Leaks
Why Choose Maher Water Damage Cleanup & Mold Removal?
When it comes to water damage clean-up, every minute counts. Maher Water Damage Clean Up & Mold Removal is centrally located in Walled Lake and services neighborhoods throughout Oakland County. Maher responds quickly to your water disaster and, in 45 minutes or less, we can start removing the water, drying out your property, and preventing or reducing mold growth.
As long-standing members of the community, our mission goes beyond water and mold removal. We want to give you peace of mind in knowing that when water, mold, or an indoor air quality issue strikes, we'll be there for you 24/7/365 in Oakland, Detroit, Auburn Hills, Walled Lake, and other cities throughout our service area. Give us a call at 248-368-0807 for further details or click here to make a reservation.