Ceiling Water Damage Restoration in Detroit Area
Imagine, while spending quality time with your family, you suddenly notice water dripping from your ceiling. How awkward that would be, right? Faulty appliances and unprofessional service can cause damage to your ceiling. We all know water is essential for the survival of every living thing on this planet, but water can also be deadly to your habitat. Water damage can be caused by natural calamities, leaky pipes, wet wood beams, snow, and heavy rainfall. But don't worry. Maher Water Damage Cleanup & Mold Removal will have your back in bad times.
The professionals at Maher have the proper knowledge, experience, and expertise to fix any ceiling water damage issue on your property. Our team is standing by 24/7 at your service. Our customer-focused, trained professionals are ready to serve people near Detroit, Oakland & Walled Lake. In your hectic life, we are here to solve these issues and make your life easier. Just give us a call at 248-368-0807 for consultation, or you can reach us online.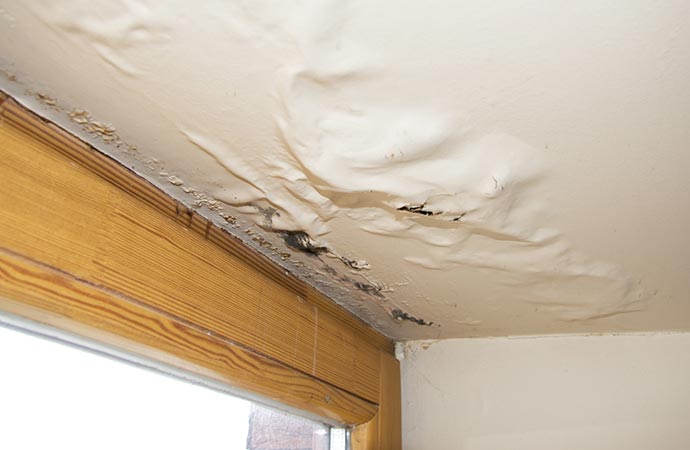 Ceiling Water Damage Affects The Structural Integrity of Your Attic
Water damages your roof ceiling that can cause several issues, like mold infestation, water stains, paint flaking, ceiling cracking, and other issues, including --
Swollen Ceiling: Ceiling water damage makes your ceiling swell or bubble. This can be caused by moisture in the wood and drywall that is trying to be released.
Mold Growth: Mold mostly pops up in the corners of your ceiling. Mold is another sign of moisture problems in your attic, and mold infestation sign is green or black patches.
Health Issue: People who are sensitive to mold face symptoms such as itchy eyes, asthma, coughing, stuffy nose, skin irritation, and other predominant symptoms.
Let Maher Restore Your Water Damaged Ceiling
Hiring an expert is vital for quality repairs and instant action. Our certified professionals can help you recover quickly from ceiling water damage and other structural damage. For superior ceiling water damage restoration, call us at 248-368-0807 for further information or contact us online. We offer our customers a Wow guarantee and 100% work satisfaction.