Water Pipe Break Cleanup Service in Metro Detroit
Corrosion or frozen water within the pipes are the most common causes of burst water pipes. In any case, the water damage caused by the burst pipe will leave your place flooded and damaged. You will be in desperate need of burst pipe water damage repair services. When a pipe bursts in the Metro Detroit area, the restoration professionals from Maher Restoration are IICRC-certified technicians with the ability to drain the standing water and restore water-damaged houses.
Our emergency crews are accessible 24 hours a day, 7 days a week. When you need our help, call us at 248-368-0807 or click here to make an appointment for services at your property in Canton, Livonia, Novi, Waterford, and other cities in the Detroit Metro area!
Dangers of Damage Due to a Water Pipe Break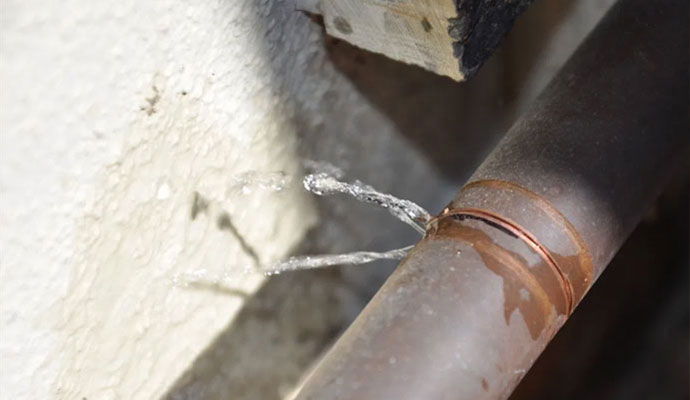 A water pipe break can be the source of water damage in your place. Freezing temperatures, internal or external pressure, blockages, and many other things might cause this to happen. Whatever caused the pipe to rupture, it is critical to respond swiftly or you might have to face unwanted consequences of water damage that may include mold growth, structural damage, flood damage, and more.
The extra water from the pipe rupture will be absorbed by porous building materials and furnishings. Their structure will be gradually ruined as a result of this absorption. If the problem is not addressed immediately, the damage will deepen causing more harm. So the wise thing to do is to call Maher Restoration as quickly as possible.
Why Choose Maher for Your Restoration Needs in Detroit?
24/7 emergency response and restoration
Arrival within a short time upon contacting
Free inspection and estimation
Fully licensed and insured technicians
Assistance in water damage insurance claim
IICRC and RIA certified
Contact Maher when you need a water pipe break cleanup service in Detroit or its surrounding cities. Our technicians are well equipped and trained to handle even the most critical restoration projects. Our crews also provided services for burst pipe restoration, appliance leak cleanup, water damage insurance claims, and more. Call us at 248-368-0807 to learn more or click here to make an appointment today for services at your property in Ypsilanti, Pontiac, Oakland, Detroit, or Grosse Pointe.