Restoration Service for HVAC Discharge in Metro Detroit, MI
A discharge line allows the refrigerant to flow from the discharge of the compressor to the inlet of the condenser. You may encounter a variety of problems related to the HVAC discharge line. But if there is a broken or leaking pipe in that system, it may cause water damage in your house. It must be taken care of timely to reduce the amount of damage.
Please do not take time to call the professionals of Maher If there is an HVAC discharge line problem in your house. Because the possible water damage caused by your HVAC discharge line may bring a series of problems for you. Our certified technicians will restore your HVAC discharge line if needed.
If you live in Oakland, Detroit, Auburn Hills, and other cities within our service area, choose Maher for water damage restoration services. You can call at 248-368-0807 to schedule an appointment now.
Causes of Clogged HVAC Discharge Lines
Clogged HVAC discharge lines may cause the pipes to leak. The followings are some of the reasons for which the HVAC discharge lines get clogged.
Accumulated Dust and Dirt: It is a vital reason behind clogged pipes. It causes the pipe to leak.
Frozen Evaporator Coil: It causes freeze clogging. The pipe may break or leak because of it. There is a high chance of flooding if it happens.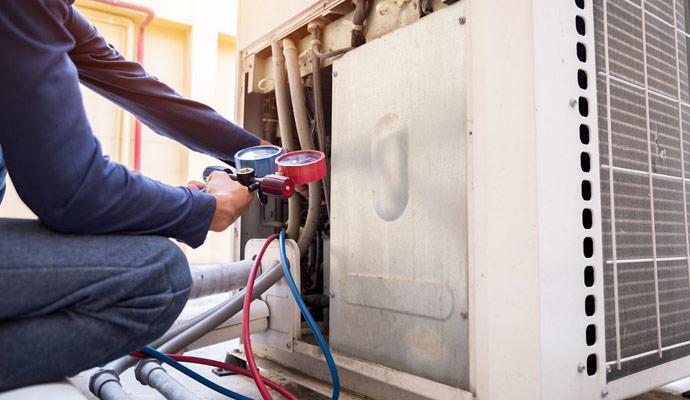 Why Choose Maher
If you are still confused about our services, the following qualities of our company will convince you to take our service.
Licensed & Insured
In Business Since 2004
Background Tested
We WOW Our Clients
RIA & IICRC Certified
Trust on Us for HVAC Discharge Lines Restoration Service
If there is any discharge line leakage problem in your property and you are looking for restoration experts, call us at 248-368-0807 to make an appointment today. You can also contact us to learn more about our water damage repair services. We strive to give you peace of mind by providing you with water damage restoration and mold remediation services.