Flooded Toilet? Get Immediate Clean Up Service In Southeast Michigan
Clogged or flooded toilets can happen in the best-kept homes. An overflowing toilet is one of the worst sanitary disasters you can face in your home.
If you are having toilet overflow issues, save yourself from expensive water damage restoration and call in the professionals from Maher Restoration. We can help you deal with this messy business.
We have been providing homeowners in Southeast Michigan with cleaning and restoration services for years. You can be sure that our technicians have ample experience in dealing with toilet overflow cleanup and water damage restoration.
Call us today at 248-368-0807 to know more about our toilet overflow cleanup with free estimates!
Causes of Flooded Toilet
An overflowing toilet is a common problem. But preventing it or having it repaired by a professional is easy when you know the cause. These potential causes can be the reason for overflowing in your home: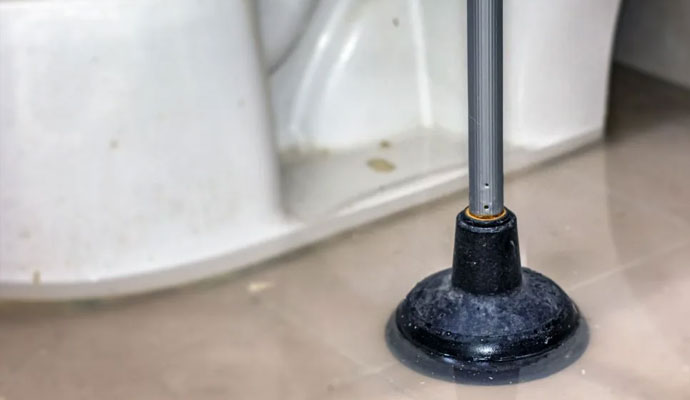 Clogged Pipes:

A clog in your toilet or the nearby pipes will stop water from draining when you flush it. The most common cause of these clogs is using too much toilet paper. Some older low-flow toilets clog easily, and you may need to flush more than once.

Blocked Vents:

A plumbing vent is a vertical pipe that connects to all your plumbing fixtures. It lets air into your pipes to replace the air that goes down the drain every time you flush your toilet. It usually has an outlet on a roof.

If it clogs with debris like leaves or pine needles, it'll stop draining or drain slowly. You might also notice bubbling sounds or bad smells after you flush the toilet, even when it doesn't overflow. It can even create suction that might damage your pipes.

Sewage Issues:

The pipes that run from your home to the main sewer line can become blocked by roots from the trees in your yard. If people flush objects like wet wipes or paper towels down the toilet, they can form a clog over time. Unfortunately, even cleaning products advertised as flushable don't break down as quickly as toilet paper. A clogged sewer line can cause a flooded basement or an overflowing toilet.

A Full Septic Tank:

If you have a septic tank instead of a municipal sewer system, you could have a similar issue. Septic tanks store waste and release excess water into the soil around them, also called the drain field. If your septic tank is full, or if water can't escape for another reason, your toilets will overflow.
How To Prevent Bathroom Flooding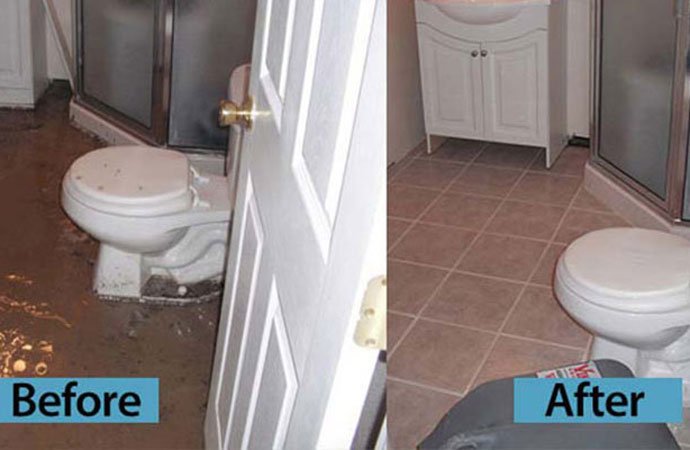 It's easy to take these precautions that can prevent the bathroom from flooding.
Never put anything other than toilet paper in the toilet.
Routinely check for leaks in supply and drain lines.
Take care of slow sink or tub drains right away.
Make sure shut-off valves are in good condition.
Know how to turn off your home's main water supply.
Don't let tree or shrub roots invade sewer lines.
Keep our contact number (248-368-0807) as a certified water damage contractor handy.
We Have Fully-Trained Professional Team For Flooded Toilet Cleanup in Southeast Michigan
Licensed & Insured
In Business for since 2004
Background Tested
We WOW our clients
RIA & IICRC Certified
Dealing with an overflowing toilet can be stressful and an unnecessary nuisance. Turn to our skilled water damage specialists for fast, reliable services. From the initial cleanup to the final restoration, we're with you every step of the way!
Our team carefully surveys the property to assess the damage, the level of contamination, and the affected materials. Using cutting-edge technology and advanced methods, we thoroughly clean and sanitize your bathroom before repairing any water damage.
Whether it's a small home that's experienced unexpected toilet overflow, or a large commercial property, such as a hotel, we ensure quality workmanship, responsive service, and good communication to our valued customers.
We also provide services for burst pipes, appliance leak cleanup, sump pump cleanup,  wet crawl space cleanup, wet basement cleanup, 24 hour emergency water restoration,  mold testing and many more!
We can contact us in Allen Park, Armada, Berkley, Brighton, Canton, Clawson, Dearborn, Dexter,  Ecorse, Flat Rock, Garden City, Hamburg, Hartland, Holly, Inkster, Livonia,  Macomb, White Lake, Willis, Wixom and other nearby areas of Southeast Michigan.
So, please call us today at 248-368-0807 or contact us online to get our services at your area.