Best Commercial Water Restoration in Southeast Michigan
You can never anticipate how water damage will affect your business, whether it's due to a plumbing leak, a storm, roof damage, or any other disaster. It can leak through the facility's walls, ceilings, flooring, equipment, and other places.
If your business or commercial building has sustained water damage from a leaky roof, burst sewage pipe, or even flooding, it is vital to immediately remedy the problem. That's why Maher Restoration has a 24-hour emergency response line. One call into our contact center will dispatch crews to your site quickly, so we can get to work and get your business up and running.
Call us today at 248-368-0807 to know more about our commercial water restoration service with free estimates!
Process Of Commercial Water Restoration in Troy, Auburn Hills & Oakland, MI
Our commercial water damage restoration team will minimize interruptions to your business and do everything possible to keep your doors open during the restoration process. We want to make sure you can continue to provide for your family and your employees. We follow certain processes for commercial water restoration: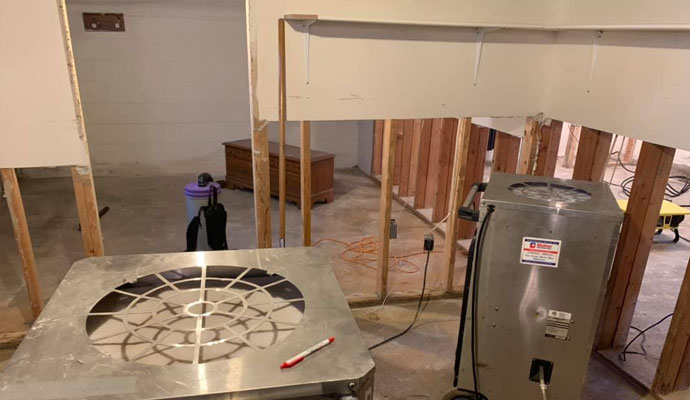 Leakage Finding:

Firstly, our crew will find and remedy the leak - even if only temporarily. It is essential to tackle the leak before trying to extract the water. Once this is done, we can move on to repairing the issue.

Water Extraction:

The longer that water sits in your commercial property, the more damage it can do. We promptly extract all standing water to prevent secondary damage and mold growth for all water damage and flood damage restoration.

Cleaning & Disinfecting:

Contaminants and debris are quite likely to reach your company premises, especially in the case of a flood or broken sewage lines. After the water has been removed, our staff cleans and disinfects the damaged surfaces safely. Drying & Dehumidification: For drying and dehumidification to take place, our team utilizes specialized equipment like fans, desiccants, and dehumidifiers. This allows us to force dry air into the contaminated areas to remove moisture from the air and minimize the risk of further damage.

Repairs and Restoration:

Once water extraction, drying, and disinfection have taken place, we can finally start the process of repair and restoration. Whether replacing what we removed, starting from scratch, or sprucing it up, our dedicated reconstruction teams can handle everything from rebuilding a small section of your building to a full-scale commercial rebuild.

Document and Content Recovery:

Losing critical records as a result of a fire, flooding or another disaster can potentially devastate business functions and operations. Whether you're a hospital, university, government institution or manufacturing facility, our vacuum freeze-drying chambers allow us to dry your documents rapidly, securely and effectively.
Reliable Commercial Water Restoration in Detroit, Oakland, & Auburn Hills, MI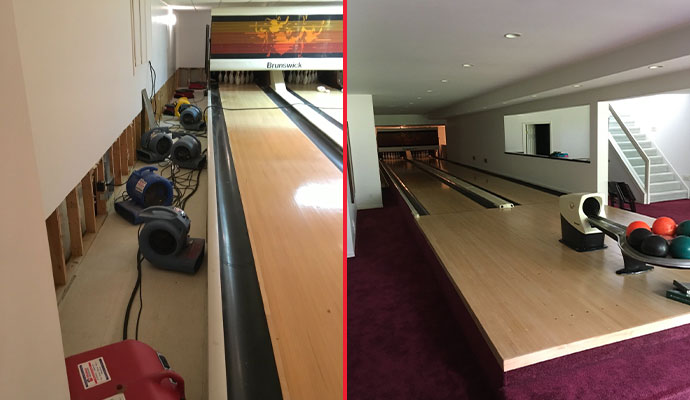 You might have other options for your commercial water damage restoration, but few offer all that we do. Our experts have been helping business owners just like you repair and rebuild. That's a lot of accumulated knowledge that we bring to your property.
We are committed to working and communicating with you throughout the process and are genuinely invested in helping you get back to normal as quickly as possible. We are also here for you 24/7 in case of an emergency. Trust your business to the experts who wrote the playbook for commercial restoration.
We also provide services for burst pipes, appliance leak cleanup, sump pump cleanup, wet crawl space cleanup, wet basement cleanup, 24 hour emergency water restoration, mold testing and many more!
We can contact us in Allen Park, Armada, Berkley, Brighton, Canton, Clawson, Dearborn, Dexter, Ecorse, Flat Rock, Garden City, Hamburg, Hartland, Holly, Inkster, Livonia, Macomb, White Lake, Willis, Wixom and other nearby areas of Southeast Michigan.
So, please call us today at 248-368-0807 or contact us online to get our services at your area.