Mold Removal From Ceiling Water Leaks in Detroit
For homeowners, ceiling mold can grow rapidly, present health hazards, and pose a costly cleanup process. Protect your family's health and your home's value with affordable, superior mold removal from ceiling water leaks throughout the Detroit area.
Maher Water Damage Cleanup & Mold Removal provides superior, reliable mold removal and mold structural damage repair in Oakland, Detroit, Auburn Hills, Walled Lake, Wixom, Novi, Farmington, Oak Park, Southfield, Berkley, Royal Oak, Grosse Pointe, and cities throughout our Detroit service area. Call the Maher professionals for immediate assistance at 248-368-0807 or contact us online to inquire about a ceiling mold removal consultation.
Additional services include appliance leak cleanup, sump pump cleanup, toilet overflow cleanup, water damage restoration, structural damage restoration, and more.
Common Signs of Ceiling Leaks in Oakland, MI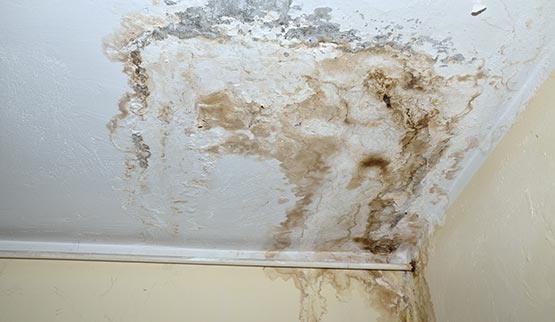 Water stains: Stains on walls, ceilings, or attics are common symptoms of water damage to the ceiling. In the event of a leak in your home, you should have it checked out as soon as possible.
Peeling paint: If water or moisture stays in one place on the ceiling for an extended period of time, paint will flake or peel.
Ceiling discoloration: Inconsistent water leaks are the primary cause of ceiling discoloration or water spots. Rings or spots can form and feel dry at times.
Sagging ceilings: Water can accumulate in ceilings that use waterproofing materials or solutions, and this coating begins to droop or sag upon leaking.
Choose Maher For Reliable Ceiling Leak Mold Removal in Pontiac
Our mold remediation and removal specialists assist customers in Armada, Belleville, Dearborn, and cities throughout our Detroit service area for mold damage emergencies. We deliver best results and total customer satisfaction for your mold removal and repair issues. Call us today at 248-368-0807 or contact us online. Choose Maher for thorough, reliable mold removal from ceiling water leaks, and you also choose:
Licensed, insured mold remediation provider
24/7 emergency response
Nearly 5,000 projects successfully completed
Advanced restoration equipment and methods
Background tested technicians
Nearly 20 years experience serving MI customers
Insurance claim and billing assistance